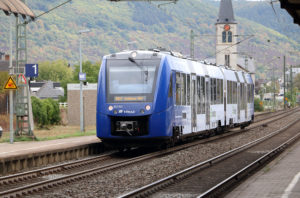 We recently toured Sweden, Denmark and Germany by train and it was a wonderful way to travel. If you've never been on European trains, you should consider it. As far as we are concerned, it is the Simply Smart way to travel in Europe.
Traveling by train in a great way to get around and really see the countryside no matter where you are. But it is especially convenient and practical in Europe. The rail system there is one of the finest and most complete in the world. It is no wonder that European trains are widely patronized by Europeans for business and pleasure and foreign tourists alike.
The advantages of traveling by European train are many. First and foremost, they run frequently between most city pairs, so you can usually go where and when you want. If you miss a train on a busy main line, chances are good there another one coming along soon, unlike most places in North America. Unless you are way off the beaten path, it is practical to simply go to the station with your Eurail pass in hand when you would like to travel. When you get there, look on the posted schedule to see which track and when a train going in the direction you want will arrive. Then it is simply a matter of getting to the platform and, in most cases, waiting less than an hour for a train that will speed you to your destination. Find a seat, have your Eurail Pass ready for the conductor to check and enjoy the trip. It's a no-hassle experience without security lines, forfeiture of your water bottles and other airport indignities and time-wasters. Even if the train you want is one of the few premium trains that require advance seat reservations, they can be obtained in a few minutes at almost any railroad station or online with the free Eurail Rail Planner app.
Secondly, trains are modern, fast and comfortable. Compared to commercial aircraft, the seats are much bigger with much more legroom, restrooms are plentiful and there are frequently onboard services like a bar car, a dining car or vendors offering food and drink. There is also more room to store luggage (and no checked bag fees!) and you can get up and walk around without being told to get back to your seat.
The tracks are scrupulously maintained for safety and comfort and the trains themselves are often state-of-the-art, fast and smooth capable of traveling at speeds of more than 200 miles per hour. Even the local and secondary trains are usually modern and comfortable.
Traveling by train is also scenic and low-stress. Looking out through the large windows, you can see the countryside as you pass scenery filled with fields, factories and towns small and big. It is a great opportunity to observe how people live as you relax in a comfort while munching on a sandwich or sipping a glass of wine instead of dealing with traffic, foreign-language road signs, getting lost and hunting for a parking space if you drive.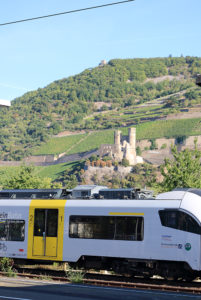 Additionally, if you plan well, and utilize the Eurail Pass program, it is especially easy and economical to explore the continent by train. Your pass gives you the freedom to go wherever and whenever you want, schedules permitting. The pass usually saves you money and necessitates the need to buy tickets for individual trips. Once you have it in hand, you can change your plans on short notice without worrying about what to do if you no longer want or need to ride the specific train for which you bought a ticket.
Your Eurail Pass is a pay-once-in advance ticket that gives you passage on most trains across Europe. The so-called Global Eurail Pass covers 28 countries. The Select Pass is good for trains in two, three or four adjacent countries which you specify in advance and 27 one-country passes are available too. Each pass is available for periods from a few days to months and for as many days of actual that you think will suit your travel needs.
Simply Smart Travel European Rail Travel Tips
? Do your pre-travel research. Most of it can be done online. Once you know which countries you want to visit and what you want to see so you can order the right Eurail Pass well in advance and have time to familiarize yourself with schedules, which trains need advance reservations, etc. The easy way to check schedules and so forth is to download and familiarize yourself with the Eurail Rail Planner app. Check it out https://www.youtube.com/watch?v=jOUb-ZybeYo.
? Order your best Eurail Pass. Note: Eurail passes must be purchased before you leave the US. They cannot be purchased in Europe. Once you know where you will go and how many days you plan to use the train including taking day trips from where you plan to stay for a while, order your Eurail Pass from http://www/raileurope.com  Rick Steves has an excellent essay about how to do it. https://www.ricksteves.com/publications/rail-guide-form)
? Pack light. You will have to lift bags on and off trains during relatively brief stops and find a place to store them once onboard. Some smaller stations have steps and no elevators. One small to medium bag is ideal.
? Mix a little. Don't be afraid to talk with fellow passengers, especially Europeans. You might find some interesting people and learn a lot of about their home countries.
? Save some money if you are on a tight budget. Here are a few ways to do it"
If you are traveling with one or more companions, use the companion discount fare to save 15%.
You can eat and drink at your seat on most trains so you can bring food with you and save buying food onboard. Save a piece of fruit or other snack from your hotel breakfast for your onboard eating and/or buy what you want at a grocery or at the station to save on onboard prices and get what you like.
Travel second class. The accommodations are not as commodious, but they are decent. The scenery is the same.
If you are willing to give up some daytime scenic views, sleeping in your seat on an overnight train will save you a hotel stay.
Stay near the station. You can save cab fares and a lot of time if you pick hotels that are within walking distance of the train station. Most stations are conveniently located downtown.
If you're 27 or younger, you can save 20% with a Eurail Youth Pass. Children under 12 travel free!
Next time you are planning a trip to Europe, you should consider doing it by train with a Eurail Pass that is custom designed by you or your travel agent to fit your trip to a tee. It's the way to go for Simply Smart Travelers. For those over 50, it is an ideal way to relax and see the continent.