Drive California's Spectacular Pacific Coast Highway With
Jeff and Ginny Orenstein of Simply Smart  Travel
California is a gorgeous state blessed with more geographic and cultural diversity than most nations.  More than a fair share of the Golden State's most extraordinary landscapes and towns can be found along or near California Highway 1, the |Pacific   Coast  highway. Come along with us as we explore attractions along this incredible strip of asphalt.
After spending a couple of days in Sonoma wine country just a couple of weeks before the fires, we joined California Highway 1, the Pacific Coast Highway, at Jenner, at the mouth of the Russian River, just 30 miles west of Santa Rosa. From there, we meandered for 195 miles (exclusive of many delightful detours to points of interest) as far as Point Lobos State Natural Preserve, just south of Carmel-By-The-Sea in the northern reaches of the Big Sur. Along the way, we visited such wonderful spots as Marin County, San Francisco and Oakland, explored Santa Cruz, Castroville and Monterey and Carmel-By-The-Sea, among many other California gems.
As we drove south from Jenner, we motored through the beautiful coastal environment passing Bodega Bay and the Point Reyes National Seashore on our way to San Francisco. Most of this leg was spent in Marin County. It is a fabulous potpourri of attractive, upscale towns like Sausalito and Mill Valley, wineries and wilderness. The Muir Woods National Monument in the Golden Gate National Recreation Area is a magnificent place to see towering old-growth redwood trees.
Just across the Golden Gate Bridge from Marin lies San Francisco. This city by the bay is worthy of several days' exploration. Visiting just some of its must-see highlights we checked out Fisherman's Wharf, Coit Tower, Land's End, The Ferry Terminal, Chinatown, Golden Gate Park, great neighborhoods set in the hills, the historic corner of Haight and Ashbury and many other scenic highlights.
Oakland, San Francisco's across-the bay-neighbor, connected by BART and the Oakland Bay Bridge, has its own bundle of interesting places to explore. We enjoyed our visit to nearby UC Berkeley (complete with a free speech demonstration), Jack London Square's great restaurants, shops and passenger trains running down the street, Lake Merritt and some spectacular views of San Francisco Bay from the Oakland hills that defy description.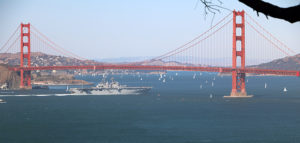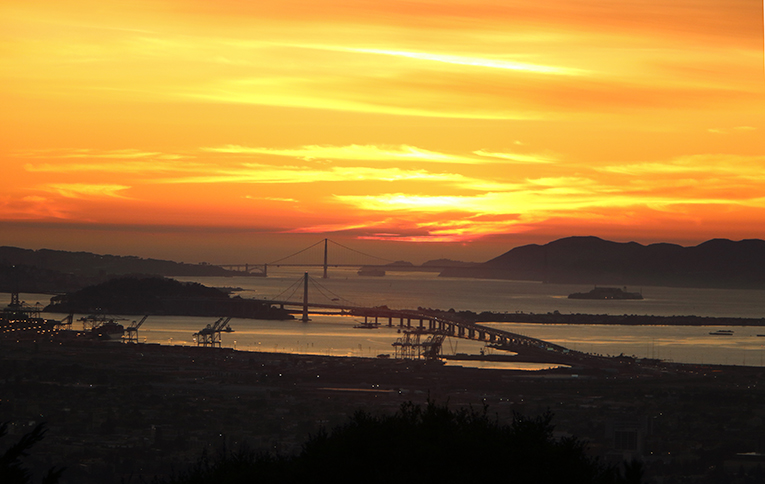 With mixed feelings about leaving San Francisco but knowing that more wayside delights beckoned us south along the Pacific Coast Highway, we headed to Santa Cruz, sticking to the gorgeous coastal route through Half Moon Bay. The highway hugs the shore, passing many picturesque state beaches enroute. Taking this way to Santa Cruz is a great choice that offers postcard-like vistas and passes far to the west of the traffic and freeways of bustling Silicon Valley.
Santa Cruz, with its iconic pier and boardwalk, is a charming microcosm of what this part of California has to offer—sun, sea, infrastructure and education. The beautiful University of California Santa Cruz campus is a worthy destination unto itself. It is set on over 2,000 acres of rolling hills covered with redwoods and offers amazing views of Monterey Bay.
Nearby is the charming little coastal town of Capitola. It's a great place to stop for a view of a Pacific sunset and browsing some charming shops.
Another detour that we strongly recommended is a drive to Felton, a mere eight miles of meandering roads from Santa Cruz through the hills and redwoods. It brings you to the historic and scenic Roaring Camp and Big Trees steam railway and the adjacent Henry Cowell Redwoods State Park. The train ride in open cars through the mountains is beautiful and the redwoods are imposing. To really appreciate their majesty, make sure you leave time to walk among them in the state park.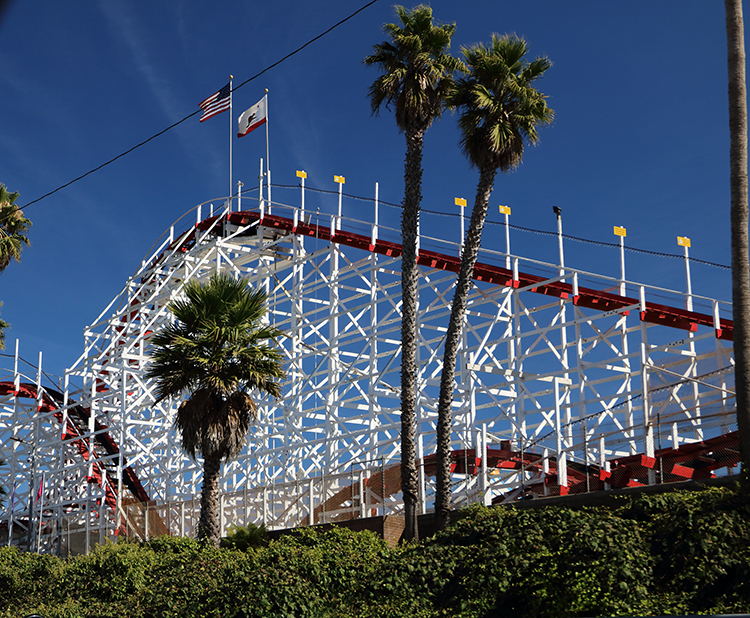 The Pacific Coast Highway passes through and near some of the most productive agricultural land in the world. We watched strawberries being harvested in Watsonville, visited (and stopped at a couple of roadside stands to taste) fresh and fried artichokes from Castroville. It was quite interesting to watch the crews harvesting the crops right along the highway and even bringing some of the crop directly from the fields to the bins in the roadside stand as we were browsing among the fragrant and colorful bins.
We also drove up 101 a short distance to check out Gilroy, the garlic capital of the world. The entire region, including nearby Salinas, is a farm-to-table chef's dream.
Continuing to skirt the beautifully-blue Monterey Bay, we arrived at Monterey. Among the most-see attractions in this city are the world-class Monterey Bay Aquarium and Cannery Row, the latter put on the map by John Steinbeck. Today, it is no longer a gritty working sardine cannery but a very picturesque and touristy conglomeration of shops and eateries.
Wandering again off California Highway 1, we stuck to the coastline just outside of Monterey for a short swing through Pacific Grove and Lovers Point and explored some of the Peninsula's secondary roads instead of the justly-famous 17 Mile Drive which we had driven on an earlier trip. For first-timers, 17 Mile Drive is worth taking since it passes many imposing mansions as it follows the beautiful coastline.
Our meanderings led us to the very upscale town of Carmel-By-The-Sea. This lovely little coastal town is full of tony shops, upscale restaurants and many occupied "Fairy Tale Houses" as well as a very nice beach and mansions poised on the shore.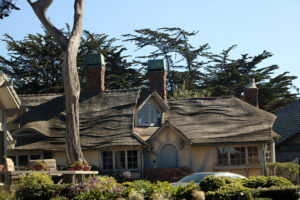 Not quite through with the Pacific Coast Highway yet, we drove on another four miles to reach one of the highlights of our journey, the Point Lobos State Natural Preserve, on the north end of the Big Sur.  Often called the "crown jewel" of the California State Parks system, this place has it all–amazing Pacific Ocean vistas, rugged and rocky shores, blue lagoons, majestic land and sea wildlife (listen to those sea lions perched on the rocks offshore) and miles of trails. It even has docent-led nature walks which we wholeheartedly recommend. Its century-old cabin at Whalers Cove is a museum full of historical artifacts from for Native Americans to Chinese to Portuguese who frequented the region for fishing and whaling.
While the Pacific Coast Highway runs all the way to Dana Point, 60 miles south of Los Angeles, time constraints and a road closure due to a landslide in the Big Sur caused us to say goodbye to this incredible stretch of asphalt for the time being. We are already plotting when we can come back and drive more of this storied highway.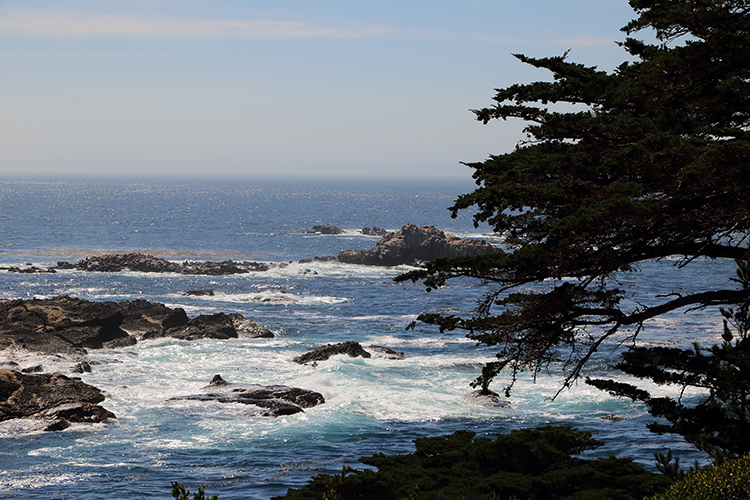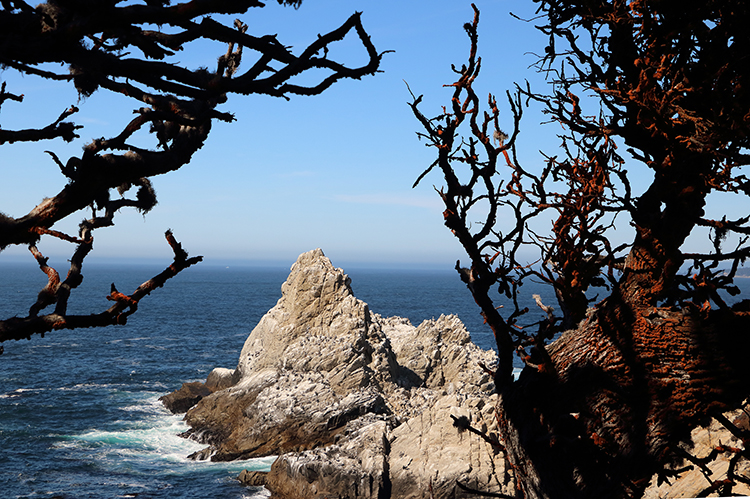 Before You Go, Check out
Getting There

Airline service from many points converges at San Francisco International Airport (SFO). Other good fly-in choices are San Jose (SJC) and Oakland International (OAK).
Amtrak operates frequent north and south service the length of California, stopping at many of the locations mentioned here. Oakland is also served by the California Zephyr from Chicago and the Coast Starlight from Seattle and Los Angeles.
Driving the Pacific Coast Highway and exploring nearby attractions requires a car. Rentals are available at major transportation points.
The best choice for a cruise port is San Francisco

Must-Sees for A Short Trip:
Muir Woods National Monument
San Francisco
Santa Cruz
The Monterey Peninsula
Point Lobos State Natural Preserve
Stopping for an "animal style burger at In-N-Out Burger, an iconic California fast-food
If You Have Several Extra Days, enjoy:
Take at least a day to explore wine country in Sonoma and Napa counties. Most wineries and restaurants are open after the recent devastating fires and the region is well on its way toward recovery.
Continuing on the Pacific Coast Highway south from Point Lobos since the damaged bridges in the Big Sur should be reopened by the time you read this. Call (888) 836-0866 for information about traffic delays and road closures. Be sure to catch Hearst Castle at San Simeon, the home of William Randolph Hearst.
Alternatively, continue north from Jenner and the mouth of the Russian River toward Mendocino, Fort Bragg and the Oregon border.
Ginny O's Tips For Dressing The Simply Smart Travel Way For Exploring CA 1. Dress comfortably for walking and exploring towns and roadside attractions but bring a jacket or other dress-up accessories since you might want to dine in an upscale restaurant along the way.
 This Destination At A Glance
   Over 50 Advantage: Self-paced touring through gorgeous scenery.
   Mobility Level: Low, with the minimum agility required getting in and out of a car and walking short distances. Some optional hikes can be strenuous.
   When To Go:  Any time. The California coastal climate is relatively mild year-round but winters are often rainy.
   Where To Stay. Numerous choices are available at many places along the highway, ranging from camp grounds to luxury hotels.
   Special Travel Interests: Nature, photography, wine.