Latest Simply Smart Travel Trip and Tips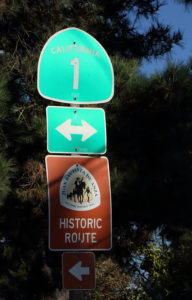 Drive California's Spectacular Pacific Coast Highway With
Jeff and Ginny Orenstein of Simply Smart  Travel
   A Spectacular Drive Through Central California's
Nature and People From Jenner To Point Lobos
California is a gorgeous state blessed with more geographic and cultural diversity than most nations.  More than a fair share of the Golden State's most extraordinary landscapes and towns can be found along or near California Highway 1, the |Pacific   Coast  highway. Come along with us as we explore attractions along this incredible strip of asphalt.
After spending a couple of days in Sonoma wine country just a couple of weeks before the fires, we joined California Highway 1, the Pacific Coast Highway, at Jenner, at the mouth of the Russian River, just 30 miles west of Santa Rosa. From there, we meandered for 195 miles (exclusive of many delightful detours to points of interest) as far as Point Lobos State Natural Preserve, just south of Carmel-By-The-Sea in the northern reaches of the Big Sur. Along the way, we visited such wonderful spots as Marin County, San Francisco and Oakland, explored Santa Cruz, Castroville and Monterey and Carmel-By-The-Sea, among many other California gems.
As we drove south from Jenner, we motored through the beautiful coastal environment passing Bodega Bay and the Point Reyes National Seashore on our way to San Francisco. Most of this leg was spent in Marin County. It is a fabulous potpourri of attractive, upscale towns like Sausalito and Mill Valley, wineries and wilderness. The Muir Woods National Monument in the Golden Gate National Recreation Area is a magnificent place to see towering old-growth redwood trees.
Just across the Golden Gate Bridge from Marin lies San Francisco. This city by the bay is worthy of several days' exploration. Visiting just some of its must-see highlights we checked out Fisherman's Wharf, Coit Tower, Land's End, The Ferry Terminal, Chinatown, Golden Gate Park, great neighborhoods set in the hills, the historic corner of Haight and Ashbury and many other scenic highlights.
Oakland, San Francisco's across-the bay-neighbor, connected by BART and the Oakland Bay Bridge, has its own bundle of interesting places to explore. We enjoyed our visit to nearby UC Berkeley (complete with a free speech demonstration), Jack London Square's great restaurants, shops and passenger trains running down the street, Lake Merritt and some spectacular views of San Francisco Bay from the Oakland hills that defy description.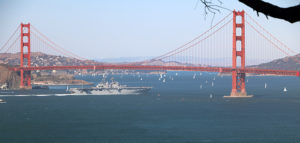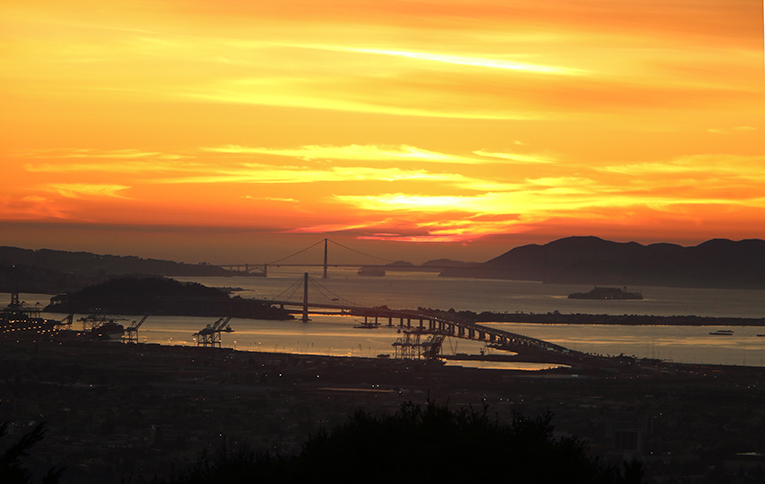 With mixed feelings about leaving San Francisco but knowing that more wayside delights beckoned us south along the Pacific Coast Highway, we headed to Santa Cruz, sticking to the gorgeous coastal route through Half Moon Bay. The highway hugs the shore, passing many picturesque state beaches enroute. Taking this way to Santa Cruz is a great choice that offers postcard-like vistas and passes far to the west of the traffic and freeways of bustling Silicon Valley.
Santa Cruz, with its iconic pier and boardwalk, is a charming microcosm of what this part of California has to offer—sun, sea, infrastructure and education. The beautiful University of California Santa Cruz campus is a worthy destination unto itself. It is set on over 2,000 acres of rolling hills covered with redwoods and offers amazing views of Monterey Bay.
Nearby is the charming little coastal town of Capitola. It's a great place to stop for a view of a Pacific sunset and browsing some charming shops.
Another detour that we strongly recommended is a drive to Felton, a mere eight miles of meandering roads from Santa Cruz through the hills and redwoods. It brings you to the historic and scenic Roaring Camp and Big Trees steam railway and the adjacent Henry Cowell Redwoods State Park. The train ride in open cars through the mountains is beautiful and the redwoods are imposing. To really appreciate their majesty, make sure you leave time to walk among them in the state park.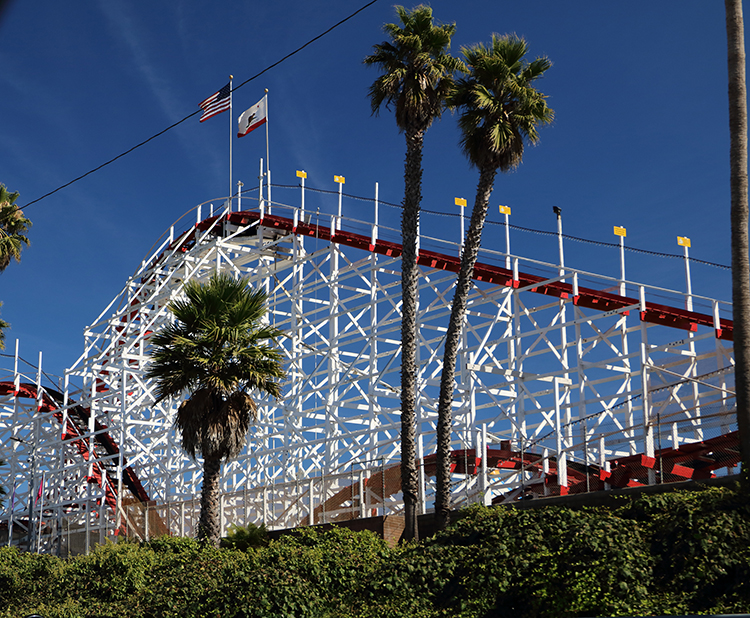 The Pacific Coast Highway passes through and near some of the most productive agricultural land in the world. We watched strawberries being harvested in Watsonville, visited (and stopped at a couple of roadside stands to taste) fresh and fried artichokes from Castroville. It was quite interesting to watch the crews harvesting the crops right along the highway and even bringing some of the crop directly from the fields to the bins in the roadside stand as we were browsing among the fragrant and colorful bins.
We also drove up 101 a short distance to check out Gilroy, the garlic capital of the world. The entire region, including nearby Salinas, is a farm-to-table chef's dream.
Continuing to skirt the beautifully-blue Monterey Bay, we arrived at Monterey. Among the most-see attractions in this city are the world-class Monterey Bay Aquarium and Cannery Row, the latter put on the map by John Steinbeck. Today, it is no longer a gritty working sardine cannery but a very picturesque and touristy conglomeration of shops and eateries.
Wandering again off California Highway 1, we stuck to the coastline just outside of Monterey for a short swing through Pacific Grove and Lovers Point and explored some of the Peninsula's secondary roads instead of the justly-famous 17 Mile Drive which we had driven on an earlier trip. For first-timers, 17 Mile Drive is worth taking since it passes many imposing mansions as it follows the beautiful coastline.
Our meanderings led us to the very upscale town of Carmel-By-The-Sea. This lovely little coastal town is full of tony shops, upscale restaurants and many occupied "Fairy Tale Houses" as well as a very nice beach and mansions poised on the shore.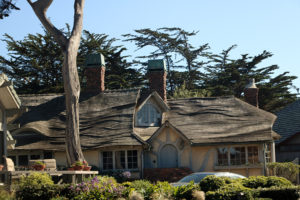 Not quite through with the Pacific Coast Highway yet, we drove on another four miles to reach one of the highlights of our journey, the Point Lobos State Natural Preserve, on the north end of the Big Sur.  Often called the "crown jewel" of the California State Parks system, this place has it all–amazing Pacific Ocean vistas, rugged and rocky shores, blue lagoons, majestic land and sea wildlife (listen to those sea lions perched on the rocks offshore) and miles of trails. It even has docent-led nature walks which we wholeheartedly recommend. Its century-old cabin at Whalers Cove is a museum full of historical artifacts from for Native Americans to Chinese to Portuguese who frequented the region for fishing and whaling.
While the Pacific Coast Highway runs all the way to Dana Point, 60 miles south of Los Angeles, time constraints and a road closure due to a landslide in the Big Sur caused us to say goodbye to this incredible stretch of asphalt for the time being. We are already plotting when we can come back and drive more of this storied highway.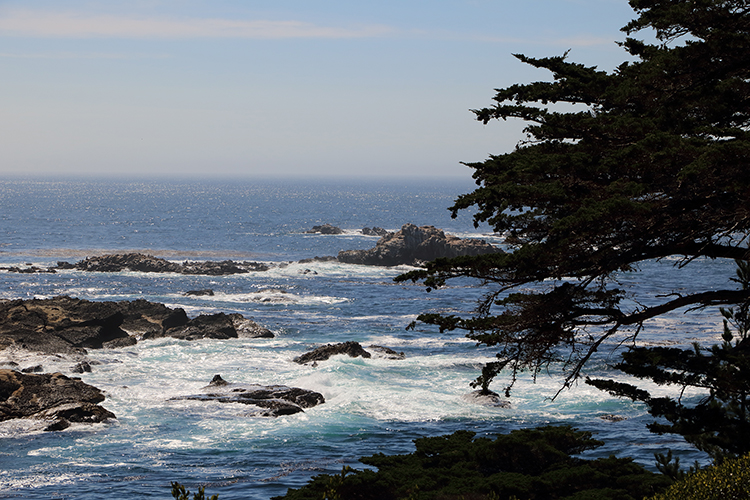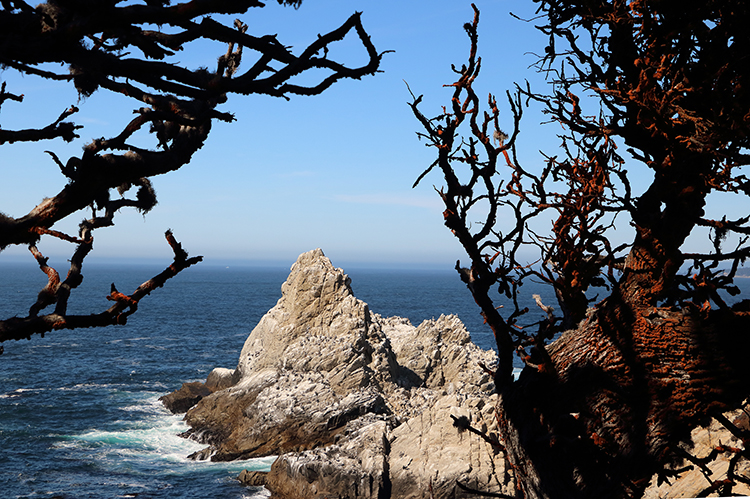 Before You Go, Check out
Getting There

Airline service from many points converges at San Francisco International Airport (SFO). Other good fly-in choices are San Jose (SJC) and Oakland International (OAK).
Amtrak operates frequent north and south service the length of California, stopping at many of the locations mentioned here. Oakland is also served by the California Zephyr from Chicago and the Coast Starlight from Seattle and Los Angeles.
Driving the Pacific Coast Highway and exploring nearby attractions requires a car. Rentals are available at major transportation points.
The best choice for a cruise port is San Francisco

Must-Sees for A Short Trip:
Muir Woods National Monument
San Francisco
Santa Cruz
The Monterey Peninsula
Point Lobos State Natural Preserve
Stopping for an "animal style burger at In-N-Out Burger, an iconic California fast-food
If You Have Several Extra Days, enjoy:
Take at least a day to explore wine country in Sonoma and Napa counties. Most wineries and restaurants are open after the recent devastating fires and the region is well on its way toward recovery.
Continuing on the Pacific Coast Highway south from Point Lobos since the damaged bridges in the Big Sur should be reopened by the time you read this. Call (888) 836-0866 for information about traffic delays and road closures. Be sure to catch Hearst Castle at San Simeon, the home of William Randolph Hearst.
Alternatively, continue north from Jenner and the mouth of the Russian River toward Mendocino, Fort Bragg and the Oregon border.
Ginny O's Tips For Dressing The Simply Smart Travel Way For Exploring CA 1. Dress comfortably for walking and exploring towns and roadside attractions but bring a jacket or other dress-up accessories since you might want to dine in an upscale restaurant along the way.
 This Destination At A Glance
   Over 50 Advantage: Self-paced touring through gorgeous scenery.
   Mobility Level: Low, with the minimum agility required getting in and out of a car and walking short distances. Some optional hikes can be strenuous.
   When To Go:  Any time. The California coastal climate is relatively mild year-round but winters are often rainy.
   Where To Stay. Numerous choices are available at many places along the highway, ranging from camp grounds to luxury hotels.
   Special Travel Interests: Nature, photography, wine.
---
---
Fleeing Irma: Planning Pays Off Even When It is Hurried
Cedartown, Georgia
Fleeing A Hurricane, Finding Southern Hospitality
We always try to plan our Simply Smart Travel trips well in advance. We have found that it pays to do our homework and research the best places to stay and learn about our destination's attractions and culture. However, long term advance planning is not always possible. That is the situation we faced at our Sarasota, Florida home as category 5 hurricane Irma churned toward us, days away. The official message was clear: get out if you can or go to a shelter if you cannot.
The Exodus Begins
We heeded the advice and fled north. But planning and preparation still proved to be valuable and made our evacuation less stressful.
After poring over TV weather reports and downloading the Florida Storms app for our phones, we filled our gas tank, loaded our precious computers in the trunk, packed appropriate clothes and a few necessities and decided that Northwest Georgia seemed to be a good place to evacuate to, given the storm's predicted path. Knowing Atlanta would be mobbed by evacuees, we decided on Cedartown Georgia, a town 60 miles west of Atlanta. We made a reservation for two nights at the Cedartown Best Western and hit the road four days before the storm was scheduled to hit.
We figured and soon verified that the highways would be clogged. So we got on our phones and started to call hotels along the way since it became obvious that we would not make Cedartown in the normal drive time of nine hours. After getting a lot of "Sorry, we are full" responses, we found one in Tallahassee and arrived there after a ten and a half hour drive (normally about five and a half), mostly on secondary roads because I-75 became a parking lot.
Southern Hospitality
The next morning, we set off from Tallahassee on U.S. 27 toward Cedartown and arrived there in mid-afternoon. After checking in to the hotel, the front desk suggested that we go to Jefferson's restaurant across the street for dinner since they were offering free food to Florida evacuees. That was our first taste of southern hospitality. What wonderful and generous people. We tried to pay but they would not accept it.
The hotel filled up fast and by the next morning, there were people sleeping in campers in the parking lot (provided gratis by people in the town) and the hotel even opened a room for evacuees without a hotel room for showering. Even though we had reservations for two nights, the hotel accommodated us and extended our stay for four nights.
The lobby of the hotel began to fill up with huge quantities of food of all kinds, bottled water, diapers, pet supplies, toiletries and so forth, all donated by private citizens, stores and local churches and all available for the taking, no questions asked. The local volunteer fire department showed up and made provisions to set up a huge tent if needed. Fortunately, it was not needed since the hotel allowed people to stay in the lobby and in the campers in the parking lot.
Soon, grills appeared on the lawn and the townspeople began grilling hamburgers, hot dogs and bar-b-que and urging evacuees to take their fill. They kept it up every day until two days after the storm, when we left to return home. Nobody would take any money for anything.
To put it mildly, the people of Cedartown stepped up and showed what hospitality is all about.
Since we had a car, a room, credit cards and adequate provisions, we decided to make the best of a bad situation and explore the region. Cedartown, the county seat of Polk County, is a picturesque town with a population of 9,750.
The town was named for its Red Cedar trees and its downtown is full of historical buildings and listed is on the National Register of Historic Places because of its 1890's architecture. Although the  town was ravaged by the Union Army during the civil war, the coming of the railroad and U.S. 27 helped it recover in the late 19th and early 20th centuries.
Postscript: We arrived back home to no damage. Irma had largely spared our town. Unfortunately, other places were not so fortunate. Thanks for everything Cedartown.
Before You Go, Check out
http://www.exploregeorgia.org/city/cedartown/
Getting There
           Cedartown can be reached by car.
By air, the nearest major airport is Hartsfield-Jackson International (ATL) in Atlanta.
By train, Atlanta is the nearest Amtrak stop. Birmingham.is 120 miles away.
By car, Cedartown is located on U.S. 27, 27 miles north of I-20 and 60 miles from Atlanta and its interstate highway connections.
Must-Sees For A Short Trip:
Historic Cedartown downtown.
Big Spring, the largest natural limestone spring in the South.
A stroll on the Silver Comet Trail which runs through town.

If You Have Two or Three Days:
Recommended for a slightly longer stay are:
A drive to the restaurants and antique shops at nearby Cave Springs.
Seeing the still-open West Cinema Theatre's art-deco architecture.
If You Have Several Days, enjoy:
Exploring the gorgeous campus of Martha Berry College in Rome, Ga.
Wandering through Museum of Coca-Cola Memorabilia in Cedartown.
Sidebar: Ginny O's  Tips For Dressing The Simply Smart Travel Way For Hurricane Evacuation. Dress comfortably for being in the car for a long time and for the expected weather. Forget fashion. If you are evacuating a natural disaster, put your emphasis on clothing that will help you survive.
Sidebar: This Destination At A Glance
Over 50 Advantage: Small town Georgia oozes history and hospitality. Cedartown's historical
downtown is walkable and welcoming.
Mobility Level:  Public and commercial buildings are accessible. There is no public transit system. The terrain is flat-to-rolling and most places have convenient on-street parking. A car is a necessity.
When To Go:  When you need to, in time to beat the throngs of last-minute hurricane escapees. Hurricane season is June through November. Georgia summers are hot and autumn turns cool to cold.
Where To Stay: Before you leave, make hotel reservations. Plan on slow driving since you are not the only one with plans to escape.
Special Travel Interests: Safety and a place to be comfortable. While you are away, be sure to explore your surroundings and enjoy its hospitality, history and charms.
---
---
Simply Smart Travel Handbook: An Evolving Blog
This blog is a travel handbook.  We've created it with the over-50 traveler in mind because that's who we are and, consequently, what we know firsthand. However, the bulk of our content applies to anybody who travels because, to put it simply, travel is the same no matter who you are or, to a large degree, how old you are. The gorgeous sights and sounds of the fabulous destinations we  cover are the same for all, even some of us may have more limited mobility and stamina than a professional mountain climber or may be more interested in savoring a glass of fine wine poolside than swimming 200 laps.
Most of its content will be incorporated and expanded into a book we are working on, tentatively entitled Simply Smart Travel: A Handbook For Savvy Over-50 Explorations.
We will also offer occasional trip reports, invite some interesting guest posts and comment on any thing that has to do with travel.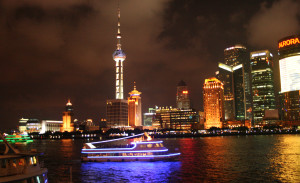 Why Travel?
Perhaps travel cannot prevent bigotry, but by demonstrating that all peoples cry, laugh, eat, worry, and die, it can introduce the idea that if we try and understand each other, we may even become friends.
—Maya Angelou

Travel is a universal impulse. Whether it is journeying across the river in search of food, migrating to a better life, seeking a change of scenery on vacation or exploring the far reaches of the known (and unknown) worlds because they are there, we human beings have been travelers for our whole existence. Our journeys of discovery, conquest or enrichment have long been part of the historical record of mankind and have shaped our very existence.
Most of us travel regularly for many reasons such as vacations, romance, visiting friends and families, following hobbies and special interests. Most of us who work for a living undertake regular journeys to earn our livelihood, even if that only entails commuting to work across town or visiting clients. Almost all of us do –or should—also travel for enrichment because travel is so broadening.
So whether your reasons for travel are necessary or voluntary, moving from one place to another is a fact of life. Why not make the most of it by making each journey suit your needs and tastes and enhance your trips by pursuing your goals and objectives.
In other words, if you are going to travel anyway, why not do it smartly? Our goal at Simply Smart Travel is to help you do just that. To us, smart travel is informed travel, aware travel and molding each journey to suit our individual goals, budget and style, not what others think you should do.
It all starts with awareness. What follows are 20 good reasons (culled in no particular order from conversations with scores of smart travelers and scouring list after list on the web) why people travel. Think carefully about each one and determine which ones appeal and/or apply to you. Once you do that, you are ready to make your next journey a smarter one and become a traveler who makes the most out of each mile traveled and each day and dollar spent.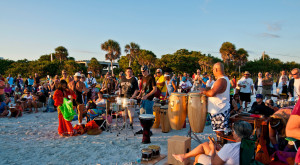 20 Good Reasons People Travel
To recharge your batteries, to de-stress and escape routine, Even if you live in paradise, the daily grind can wear you down. A change of scenery can do wonders for you. You deserve it.

To learn, get new ideas, study on-site, travel for courses, see and absorb other cultures and lifestyles and change your perspective on the world.

To become a smarter person who is more interesting to others and a better conversationalist because of what you have seen and who you have met.

To see unique, spectacular, exotic and amazing sights that only exist in one or at most a very few places on earth and may be disappearing.

To escape a bad or unhealthy climate or environment and search for a better one.

To discovering your heritage and connect with family and tribe. You may not be able to go back home figuratively but you can do it literally and it will open your eyes in surprising ways.

To discover and savor new cuisine and drink and other uncommon luxuries.

To explore religion and spirituality, whether on a pilgrimage or to understand and compare religious beliefs and experiences.

To learn a new language, for work or pleasure.

To work, whether as a commuter, long-term visitor or attendee at a meeting or conference.

To learn new skills and pump up your resume.

To enhance your creativity and productivity by exploring innovations and systems that work, learning from those that don't and putting new ideas to work at the job and at play.

To pursue special interests from archaeology to zoology.

To find adventure, meet a challenge, compete in sport, be more active or face the unknown.

To learn that experiencing the journey can be a goal in itself, whether traveling across a continent on a train, kayaking an estuary or sailing the seven seas

To accommodate politics, whether on a forced journey away from conflict, learning about the many ways we govern ourselves or seeking new ideas and policies to apply at home.

To make a difference by pursuing peace person-to-person, building something for others less fortunate or dealing with a crisis.

To discover yourself by seeing how others are the same and different, overcome your fears and grow as a person

To find food, seek medical resources and heal.

To come home and appreciate your own bed, be it ever so humble.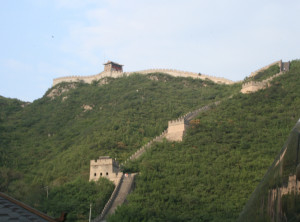 How many of these reasons for leaving home apply to you? The more you know about them, the more you will be in a good position to embark on a journey of discovery
not only of the world but of yourself. Give into your wanderlust. You'll feed your intellect and spirit and be better for the experience.
By Jeffrey R. Orenstein, Ph.D., www.SimplySmartTravel.com and syndicated travel columnist
Why Senior Travel Is So Popular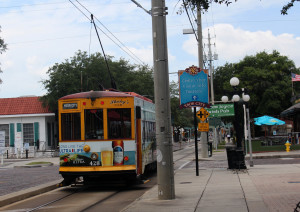 The American population is aging and on the move. Approximately 40% of Americans are 50 or older and about 13% of the population is 65 or over and the numbers in each category are growing. But far from hanging out on our rocking chairs on the front porch as generations before have been wont to do, we are on the fast becoming known as the travel generation.
We are on the go as never before. According to leisuretripandtravel.com, a full 75% of baby boomers travel and 30% pursue active vacations. When we travel, we no longer just seek out sedate cruises and other trips that are long on leisure and short on activities and sightseeing.
Today's over-50 travelers are increasingly out there. We're exploring the world, looking for new tastes and sights, soaking up learning and culture and not afraid of a little adventure. We're less prone to go for gentle bus tours that start late in the day and get everybody back to the hotel in time for an early dinner and more prone to explore destinations in depth.
Why is this generation so travel-oriented? There are probably as many reasons as there are individual travelers, but here are some of common denominators.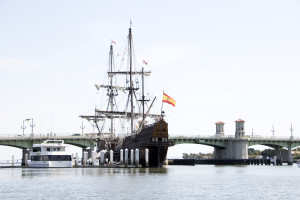 *We are better educated than previous generations and are more interested in and have the conceptual framework needed to appreciate cultural, political and aesthetic dimensions as we travel.
*Though we've finished our formal education, our attendance at continuing education courses in such huge numbers shows that we are committed to lifelong learning and yearn to absorb as much as we can in our travels.
*We have more resources than previous senior generations since the social safety net has not been tattered as much for us as for the generations that follow us. We're probably the last generation that enjoys traditional pensions in large numbers, We've climbed the ladder through at least one career (and many of us are in our second or third), and are left with some money in our pocket that we are willing to spend on what we perceive as good travel values.
*We increasingly view travel as a reward for a life of work and sacrificing for others and view the second half of our live as "our time" since we have paid our dues in family and career. While most of us don't want to spend it all, we're not interested in passing it all along to our heirs either.
*We grew up with computers at work, live in the internet age and carry smart phones. We are comfortable with technology and are able to easily access detailed information about destinations and styles and modes of travel.
*Senior discounts are common and we are willing to research them and use them to stretch our travel dollars a little further.
*Because medical science has made great strides during our lifetimes and, as a result, we live longer than previous senior generations, we tend to take better care of ourselves. We are at least a little bit healthier and more adventuresome than our parents when they were our age. While we're not quite as athletic as some (by no means all) twenty-somethings, we're a pretty fit and adventuresome bunch and many of us are willing to walk, bike, hike, climb and explore on our way to adventure and culture.
*While we like to hang out with our contemporaries, we also enjoy and relate to folks of all ages since we have worked with younger folks and interact with multi-generation families. Senior-only tours and groups appeal to only some of us.
*We've honed our tastes so we're always on the lookout for excellent food, drink and attractions, especially those just off the beaten path. Culinary and wine adventures appeal to many of us.
*Quite a few of us travel on occasion with our children and grandchildren so, when we wind up at the Disney World's of the world, we look for more than roller coasters while we're there and the destination developers are happy to accommodate us.
*Tour operators realize our numbers and buying power and are increasingly catering to what we want and creating more active and culturally-oriented senior-oriented tours.
*River cruising with land excursions and good food and drink have become popular and largely cater to the over-50 traveler.While we're not all the same at 50, 60 0r 70 any more than we're all the same at 20, 30 or 40, frankly what sets us apart as travelers who are under-50 set is not that much. Nevertheless age has its privileges and we are willing and able to take advantage of them. That characteristic and the interests and habits that define us make us a desirable travel market. We have become a self-fulfilling prophecy…because we got out there, they built it and we came in great numbers. Now they are building more and they hope the cycle will continue. It probably will.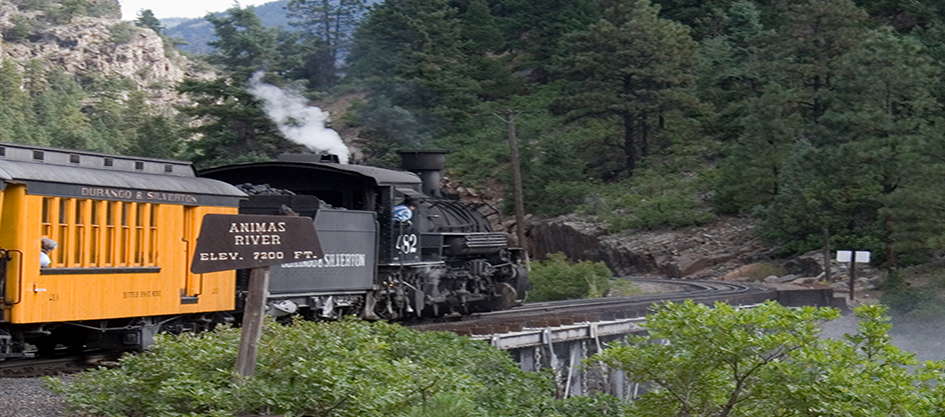 By Jeffrey R. Orenstein, Ph.D. www.SimplySmartTravel.com and syndicated travel columnist.
Next: What is Simply Smart Travel?
---
Simply Smart Travel: Simple is Smart, Smart Is Simple
BY JEFFREY ORENSTEIN, Ph.D.
It is an axiom of this essay that simple and smart travel that suits your travel needs and wants is the essence of good touring.
In order to explore the various dimensions of simple and smart travel, a few definitions are in order. Once we agree upon what we mean by a few key terms, we will all be  traveling on the same page, so to speak, throughout this book and in our approach to the real world of travel.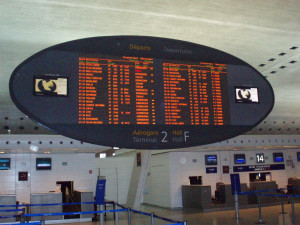 What is Travel?
The most basic tern we need to think about is the very definition of travel itself. In simplest terms, it is the act of going from one place to another, irrespective of whether the trip happens on foot, by car, in a train, plane or ship or via some other conveyance.
Because so much is involved in contemporary travel, regardless of distance covered, travel, at least for the smart travelers we have in mind, involves more than picking a mode and showing up at the station, airport or highway to catch our conveyance. It also involves the often-detailed research and planning needed to get where you are going when you want to get there and in a way you want and can afford. Once you reach your destination, smart travel needs to encompass where you are going to stay and what a you are going to do when you are there if you want as smooth a trip as practical.
Simple Travel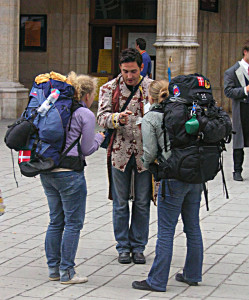 To travel well, e.g., smartly, your research and trip choices can't take place in a vacuum. Making the most of your journey requires that you carefully define your specific travel objectives. We will go into depth on this topic in subsequent chapters. Suffice it to say for now that good simple travel planning requires that your trip dimensions and choices are shaped by the activity level, the luxury level, the level of risk and the needed objectives (business, pleasure, family visit, etc.)  that make you comfortable while getting the job done for you.
Once you think of a trip this way, simply smart trip planning is simply" a matter of tailoring the planning, execution and follow-up to your voyage appropriately and with the fewest self-induced complications possible.
Yes, complications and "stuff" happen. It is a lucky trip indeed when at least some unplanned difficulty does not come up. But you don't have to increase the likelihood of difficulties ruining your trip by packing the wrong things, scheduling poorly (not leaving enough time between travel connections, scheduling too many moves that entail packing, unpacking, and close connections on local and regional transportation) and making other similar mistakes. Even though travel problems are impossible to anticipate in detail because of their almost infinite variability and unpredictability, you can assume that things can and will go wrong enroute with little warning and sometimes large consequences. The best way to handle this in your trip planning is to leave time and give yourself enough options to work around obstacles to a smooth trip do something as common as getting into a traffic jam on the way to the train station or a canceled flight or road closure or as uncommon as an earthquake, landslide or flood will not ruin your trip.
In short, the above is what defines simple travel. It is not necessarily no-frills travel but makes our trip the trip as easy as our specific trip goals and needs require. Simple voyaging is not uncomplicated per se and may involve many planned and detailed mode changes and building in adaptations. But done right, these seeming planned complications happen for a purpose and serve to ultimately simplify your life on the road because they build in a scheduling cushion, some downtime for you and anticipate that "stuff" happens. They leave you wiggle room to deal with life in general and life on the road in particular. Travel is complicated enough since you leave your familiar resources and network behind when home recedes in the rear-view mirror. By planning well and doing whatever we can to uncomplicate it and gives us time to smell the roses along the way, we build in flexibility, alternatives and peace of mind. Make your travel simple by uncomplicating it as much as possible. Find and take the path of least resistance that is compatible with your specific trip goals and needs. Simple travel, in a nutshell, is creating a set of solutions and plans for as given trip that are as uncomplicated as possible and still have enough detail and anticipate enough to get the job done. Cultural and social sophistication are compatible with such smart trip planning, but rushing, pushing your scheduling luck and showing off or taking unnecessary risks are not.
Now that we have defined simple travel, what is smart travel? It is more than good simple travel planning, although it surely involves that too. A smart travel uses his or    her native intelligence and experience and brings it to bear on the trip at hand. It is  not so much a matter of raw IQ or education but of keeping your wits about you and    being what is commonly referred to as street smart.
Smart travel involves knowing enough about your destination and its customs, language, reputation, economy and conditions on the ground to avoid getting ripped off or cheated by vendors, local transportation providers or venues. Keeping your wits about you includes remembering the adage that if a deal seems too good to be true, it probably is.
Smart travel is also safe travel. It means having the focus to evaluate and pay attention to security and your surrounding and the resourcefulness needed to avoid trouble in an urban environment. It can be as simple as not doing anything stupid by wandering off into questionable surrounding and sticking to well-lighted and well-frequented areas as much as possible.
Smart travelers are also politically aware enough to avoid trouble in politically-challenging environments where you could be harassed, detained or worse simply because of what you look like, belong to or what you are-or could be-doing. This is certainly true in areas of international political ferment but can be true in areas of domestic social ferment or conflict as well. Even the U.S. State Department adopted smart travel as a concept when it renamed the Travel Registration" or "Registration with Embassies" program for international travelers the "Smart Traveler Enrollment Program" that provides current information it compiles about the country where U.S. passport holders are traveling or living. It includes travel warnings and alerts and registered users to add and delete trips based on their current travel plans!
Beyond being safe and destination-savvy, the smart traveler makes the most of his or her trip by seeing and absorbing as much as possible of what the offers in the way of culture, cuisine, vistas and local experiences. You have come a long way to get wherever you are going and it is smart to make the most of it as long as your principal travel objectives (be they business, sampling the local wines or shopping for local products) are met.
Smart travelers also make smart use of technology. Don't haul around too much redundant stuff. Simplify your travel life by choosing the right smart phone, service plan and appropriate apps so your device functions as your lightweight pocket GPS, mapper, guidebook and emergency communicator. Get a full-function tablet, equip it with the right apps and you'll be able to leave your heavy laptop home.
Smart travelers pack intelligently, bringing just the right amount of the right clothes and gear for their trip. We'll cover how to do that in depth later in this handbook.
Simply Smart Travel
Our conclusion is that simple travel is smart travel and smart travel is simple travel, all things being equal. The caveat, of course is that this is true to the extent that common sense and safety are observed and your reasonable trip objectives are met. The bottom line is that you, as a simply smart traveler, should plan and execute a simply smart trip by doing the least that makes sense and adding the fewest frills on the road as long as you fulfill your trip objectives and make the most of what there is to see and experience. Slow down, take a deep breath and enjoy the trip by not making it any more complex than it needs to be.
---
Traveler: Know Thyself: Discover Your Inner Travel Child and Grow Up Together To Become Simply Smart Travelers
You are one of a kind. So is each trip you take. For example, even though I fit into the broad demographic categories of American, male, college graduate, over 50 and somebody who often combines business and pleasure on trips, I am not the same as others who fit those categories, Moreover, each trip I take is different, even those to the same destination. While all of us certainly bear many similarities to others who share our statistical categories, as far as travel is concerned, our differences and preferences are significant and deserve to be taken seriously in trip planning and traveling.
If you want to plan and execute simply smart trips, a critical first step is to know thyself. The More you know who you are as a traveler, the easier it is to tailor your trips to your needs in general and for a specific trip. In other words, the Simply Smart Traveler goes on a voyage of self-discovery and drills down deep into his or her preferences to increase the odds of becoming a knowledgeable and satisfied tourist.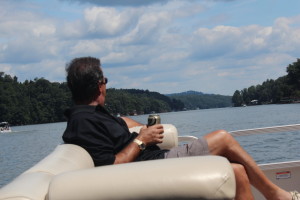 Discovering Your Inner Travel Child
How do you discover your travel persona? We begin our  exploration by a little exercise, created in the spirit of popular  psychologist John Bradshaw's  hit  book 1992 book  Homecoming: Reclaiming and Championing Your Inner Child. Try to think back to when you were a fairly innocent pre-school child   and imagine that your parents have just asked you where you want to go on vacation and what would you like to do when you get there. How would you answer? An amusement park? The beach? Camping? __________? or _____________?
Chances are pretty good that your answers still hold some sway for you. Yes, it is obvious that if you are an over-50 traveler, you're not a toddler anymore. Without belaboring the point too much, your education and the conceptual framework that enable you to understand culture and history, your tastes, your body and your resources have evolved a long way in the 45 or more years since you were that little child. But your basic spirit of adventure and what sounds like fun is probably still dwells within you. The idea of all this is to dig that basic spirit out, update it and apply it to the real circumstances of your adult world and the trips you will take for the reasons you take each one. The more you can know yourself as a traveler, the savvier and more satisfied traveler you will become.
Creating Your Mini Travel Self-Profile Journal
A good way to accelerate your voyage of self-discovery is to systematically ask yourself some basic questions about your ideal vacation (your grown-up inner travel child preferences), the travel activity level you prefer, your critical travel needs, how much luxury you want and are willing to pay for, your food and drink tastes, your tolerance and preferences for the arts and your travel companion preferences.
---
Road Trip! The Good, The Bad and The Ugly.
The two of us completed an incredible 3,750 mile road trip recently from our Sarasota-area home in Florida to Charleston, South Carolina, Wilmington, Delaware, New York City, Plymouth, Massachusetts, Quebec City, Montreal and Ottawa in Canada (with a train excursion from Quebec City to Baie St. Paul in the Charlevoix region), Scranton, Pennsylvania, Roanoke, Virginia, Savannah, Georgia and back home. Our trusty 2015 Hyundai Sonata Sport Limited proved to be comfortable, roomy and economical, providing us more than 33 miles per gallon and lots of room for luggage, a rapidly-growing library of tourism material, camera equipment and munchies.
We have done several trip reports and provided travel tips on our destinations in our national column.  This little essay is about our impressions of the road trip itself.
The Good
The blind-spot and lane-change warnings, backup camera and adaptive cruise control in our car contributed to our sense of safety and made driving much easier than in our previous cars. If your car does not ahve them, your next car should.
Gasoline was relatively inexpensive (ranging from fill-ups costing $1.89 a gallon in South Carolina to a high of about $4.00 a gallon in Canada. Most fill-ups were $2.39 or below.
The roads for the most part were quite good (especially the U.S. Interstate highways and the major roads in Canada) and well-marked.
Traveling by car is convenient since you can come and go on your schedule. However, taking the train from Quebec City to Baie St. Paul and return, though was a welcome interlude from driving.
With a large trunk for luggage, we (mostly Ginny) packed in ways that were very convenient and we did not have to take all luggage in to every place we visited.
Like train travel, car travel provides a constantly-unfolding tableau oft of great scenery.
We had a lot of time to plan, discuss our forthcoming travel book and enjoy conversation.
We discovered some real destination gems that are just slightly off the beaten path.
The Bad
While our weather was extraordinarily good for the vast majority of our trip, we did hit a couple of torrential rainstorms that brought visibility down to almost zero and created a few white-knuckle moments. Driing in bad weather is neither fun nor safe.
Parking in the cities we visited was difficult to find and expensive. We usually stayed downtown, kept our car in the hotel lot and walked and took public transportation.
Traffic in and around New York City is terrible. While we didn't drive once we got there, getting in and out even though we timed our trip to avoid rush hour was bad. Next time, we fly or take the train to new York City and leave the car home.
The Ugly
There are too many large trucks are on the roads. Way too often, they hogged both lanes at well below the speed limit in hilly country as they tried to pass each other. It makes both environmental and safety sense to put a lot of those long-haul loads on trains and get them off the roads.
The bottom line: We loved it and are talking about another major road trip soon. The bad was hugely outweighed by the good. If you like to drive, we recommend that you consider a road trip whether it covers 375 or 3,750 miles or something in between.
---
By Jeffrey R. Orenstein, Ph.D., SimplySmartTravel.com
Check back often for updates and additions. All content copyright Jeffrey R. Orenstein, 2015-2017. All rights reserved. Short excerpts conforming to fair use may be used without permission and with attribution.