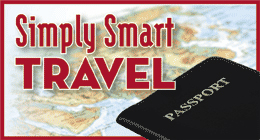 Our Little Company
Simply Smart Travel is a company dedicated to providing savvy over 50 travelers with the best travel information we can find. We take our motto of tips, trips and tidbits seriously and love to share what we learn as we travel and from the experts we consult.
We publish Simply Smart Travel, a monthly syndicated travel column carried on this web site, other web sites and in select magazine and newspaper publications.
Since we love to travel by rail, enjoy wine and food, love to explore Florida and place a high value on learning, much of our writing focuses on this.
We're not a travel agency (although we work closely with a few we have learned to trust) and we are definitely not in the business of writing fluff and puff pieces for hire. We usually finance our own travel and when we do accept a rare fam trip or participate in a press excursion, we always stipulate up front that we "call 'em as we see em".